Morgan Stanley [NYSE:MS] will report earnings after markets close on Wednesday, January 20th.
MS Earnings Forecast For The Current Quarter
Morgan Stanley [MS] is expected to report weak earnings results for the quarter ending on Dec 2020. Consensus estimates give the company expected revenues of $11.54B and an earnings per share of $1.27 for Dec 2020. Looking further ahead, the company is expected to report revenue of $11.96B at an EPS of $1.4 for Mar 2021. The estimates represent upside of 0.60% and -9.85% in the company's revenue and earnings per share, respectively, on a year-on-year basis.
---
3 Tiny Stocks Primed to Explode The world's greatest investor — Warren Buffett — has a simple formula for making big money in the markets. He buys up valuable assets when they are very cheap. For stock market investors that means buying up cheap small cap stocks like these with huge upside potential.

We've set up an alert service to help smart investors take full advantage of the small cap stocks primed for big returns.

Click here for full details and to join for free
Sponsored
---
MS Earnings Estimates For The Current Year
For the financial year, Morgan Stanley [NYSE:MS] is expected to bring in revenue of $45.98B. The returns are nearly $4.56 billion higher than the company's actual revenue recorded in the fiscal year 2019. In terms of EPS for the 2020, estimate put it at 5.85, higher than that of FY19 by $0.66. Estimates put this year's earnings growth at 12.70%, -9.70% for the next, and at an annual 4.94% over the next 5-year period. As for sales, forecasts are for an increase of 11.00% in the current fiscal year and a further 0.60% over the following year.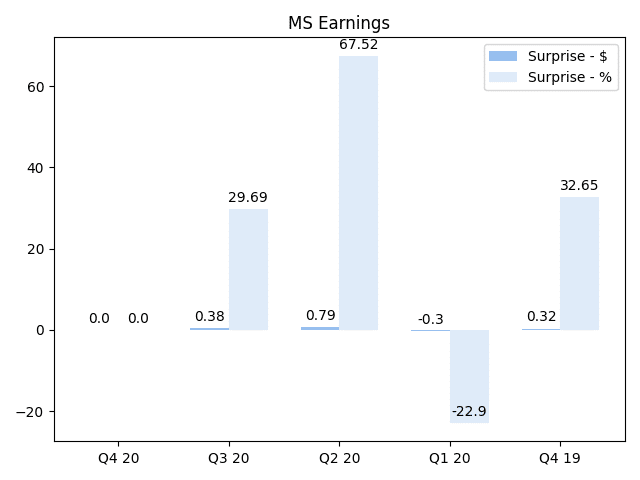 MS Price Performance
On Wall Street, Morgan Stanley [NYSE:MS] finished Friday's session down -1.61% at $75.24. The stock went up to $75.57 at the same session while its lowest single day price was $74.15. In the last five days, it saw a fall of about -0.01%, Morgan Stanley shares gained by almost 9.79% since the beginning of the year. However, the share price has dropped to as low as -2.50% below its one year high. On 01/12/21, the company shares recorded $77.17, the highest single-day price it has got to in the last 52-weeks and a 52-week low was seen on 01/04/21, the same year at $67.72. The company's shares have inclined by 33.31% in the past year. The 50-day SMA achieved is $64.40 while the 200-day SMA is $51.26. Volume gained to 12.88 million from 9.85 million in the previous session.
Morgan Stanley [MS] Valuation Measures
Notably, Morgan Stanley [MS] stock can be classified as a good candidate in the listing of underestimated low-priced Capital Markets companies to purchase soonest possible with the prevailing 12-month PE ratio of 12.69. The measure means the stock is exchanging at a discount as compared to the 18.15x trailing earnings of the industry. It can be helpful for investors to consider historical price-sales ratio, more specifically, a 2.69 PS value ratio is reported for the last one year of reported earnings. That is lower than the industry average of 3.82 which means MS serve an attractive investment opportunity compared to its competitors.
MS Stock Support And Resistance Levels
On the 24-hour scale, the immediate backing is perceived around 75.24 level, and in case of violation of this particular level, it will cause more drop to 74.40 level. On the upper level, 77.24 is still the key resistance. The stock may increase to the subsequent resistance at 76.41. The Relative Strength Index (RSI) pinned on the 14-day chart is 73.03, implying a overbought technical stance while the MACD stands at 3.40, meaning price will increase in the next trading period. Percent R indicator moved to 19.58%, implying bullish price movement. Stochastic %K at 85.85% suggest selling the stock.
Is Morgan Stanley [NYSE:MS] a Good Buy Right Now?
It should be noted that MS technical indicators for short, intermediate as well as long term progress have placed an overall average of 100% as Buy. The average signal changed from 100% Buy in the last week and compares with 100% Buy in the past month. Data from Morgan Stanley's Trend Spotter indicated that the signals were Weakest. The stock current average is 10.26 million shares in the past 20 days and the short term average signal indicates a 100% Buy. In the last 50 days, the average trading volume was 10.92 million shares while the medium term average advocated for 100% Buy. The average long-term signal stands at 100% Buy and the 100-day average volume stands at 11.72 million shares.
What is the short interest in Morgan Stanley?
Short interest in the Morgan Stanley stock has surged, increasing by 0.74 million shares to total 27.7 million shares on Dec 30, 2020. The interest had seen shares on Nov 29, 2020 stand at 28.44 million, data from Yahoo Finance shows. The decrease of -2.67% suggests the stock saw some decreased bullish sentiment. The stock's days to cover moved to short ratio while the shorted shares account for just 1.94% of the overall float for the stock.
Morgan Stanley's Biggest Shareholders: Who Owns Morgan Stanley [MS]?
Filings by SSgA Funds Management, Inc. showed that the firm now holds a total of 120,398,394 shares or roughly 6.66% of the outstanding MS shares. This means their shares have reduced by -1,049,455 from the 120,398,394 the investor reportedly held in its prior 13-F filing. With the conclusion of the sale, The Vanguard Group, Inc. updated stake is worth $7,861,095,009. Details in the latest 13F filings reveal that T. Rowe Price Associates, Inc. disposed off their -6.79% stake valued at $6,937,061,639 while BlackRock Fund Advisors added theirs at $4,334,167,240. During the last quarter, T. Rowe Price Associates, Inc. liquidated -7,369,552 of its shares in Morgan Stanley while BlackRock Fund Advisors bought 502,472 shares. The JPMorgan Investment Management, I's holdings currently number 35,782,293 shares at $2692259725.3199997. According to the firm's last 13F report, Geode Capital Management LLC shares in the company at filing stood at 21,706,615 shares, roughly $1,487,554,326.
What are analyst thoughts on Morgan Stanley?
Looking forward to the Morgan Stanley share price prediction, we can see that analysts, surveyed by FactSet, offer the mean price target for Morgan Stanley stock at $76.50 within the next 12 months, which represents almost 1.65 per cent growth from its previous closing price of $75.24. The highest analysts' target for Morgan Stanley stock projections is $95.00 and the lowest one is $50.00. Still, 28 analysts sharing their consensus rating for MS stock in 2021 agree that it is an Overweight.